About 70% of the world is now hooked into social media, half of which uses more than one social media platform. This means 2.1 billion people have at least one social profile and that number is expected to increase to 2.5 billion by the year 2018.
Social media has many uses other than just posting selfies and animal videos, as research shows that social media marketing affects both B2B and consumer purchasing alike. Purchasing decisions are largely influenced by social content and 57% of purchasers have said that positive feedback found on social media platforms influenced their purchase decisions. This has caused social media marketing to take the drivers seat when it comes to B2C communications today.
Most businesses use social media platforms to market themselves and their products to their target audiences but are finding the inherent value tricky to quantify.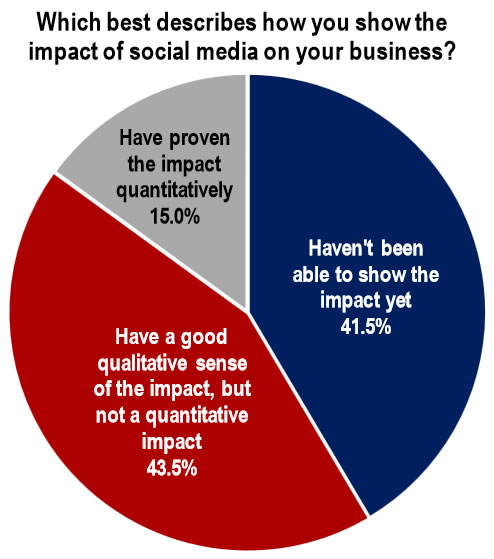 Image credit:  The CMO Survey
Social Media will continue to become more important as time goes on. This is illustrated by the figures that show 90% of 18 to 29 year olds are connected to social media, compared with 35% of those 65 and older. The millennials are fully immersed in social media and use it as a communication channel with businesses.
Actual ROI is difficult for businesses to measure. A whopping 46% of B2B digital marketers are unable to quantify the effect of social media marketing on their revenue generation. Social media marketing seems to be more about paying attention to metrics such as how many "likes" or "shares" are obtained. These make up 80% of the metrics used by digital marketers to judge impact while 56% are using website traffic to gauge success.
What do you take away from these numbers? Well it goes to show that social media may be more about trust building and becoming involved with your audience than it is about direct sales. Social media is still growing fast and it's turning into the go to place for businesses to find their customers meaning quantifiable numbers shouldn't be far behind.
The Demographics of Social Media: 7 Statistics
10 Marketing and Advertising Stats Affecting Social Media
Social media platforms have been embraced by our online society and are here to stay. Businesses worldwide have discovered the benefits and capabilities of customer interaction made available causing them to embrace social media, incorporating it into their day-to-day operations. Social media marketing has become one of the most important marketing channels your business can utilize and is second only to television marketing. If your business hasn't gotten involved in social media marketing then now is the time.